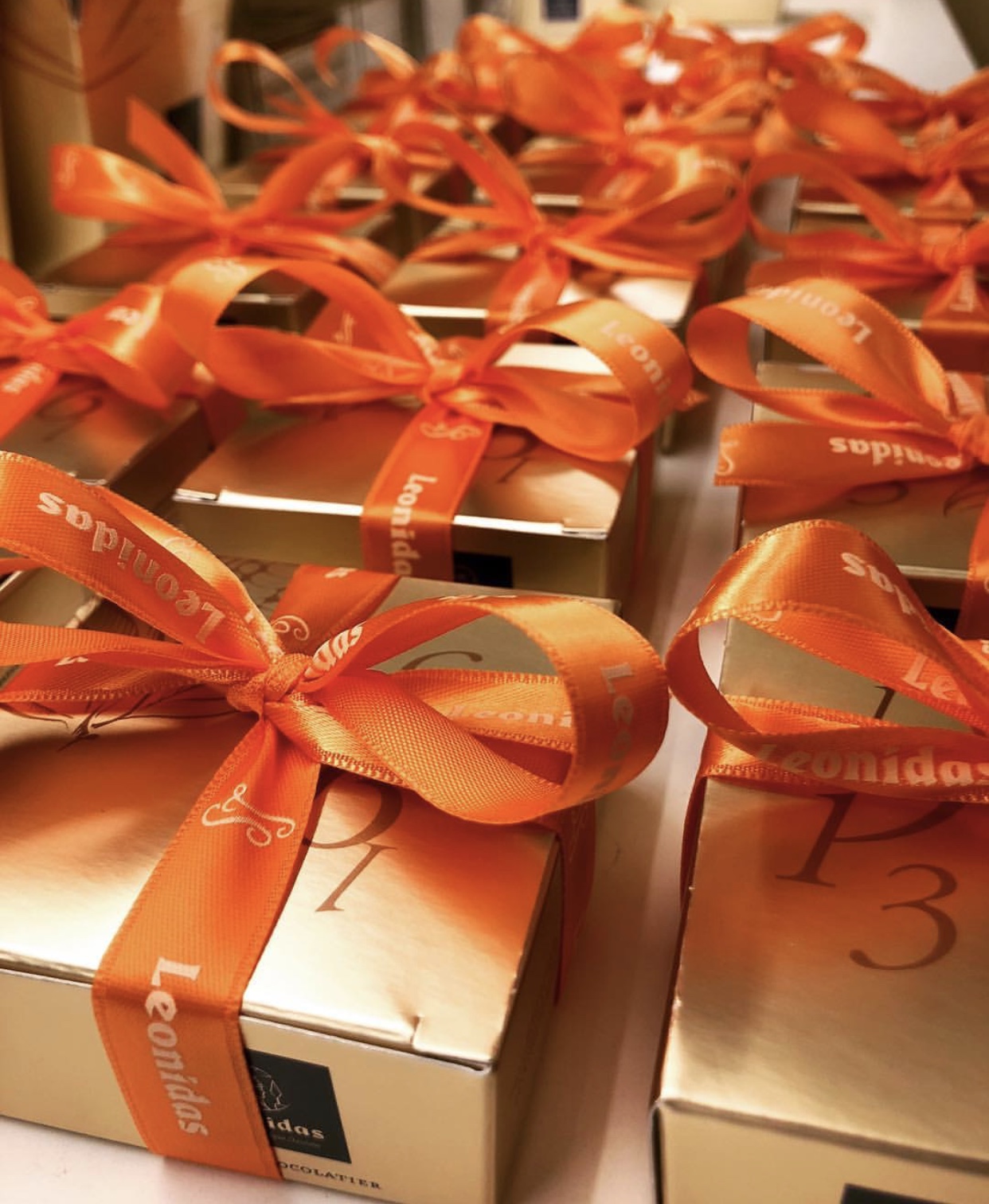 Add a luxurious touch to corporate gifting or party favours for events by presenting 100% pure cocoa butter, fine belgium chocolates that are elegantly packed in selected gift boxes or special arrangement curated to your satisfaction. For queries, send an email to cs.leonidasmy@gmail.com or WhatsApp us at 012-3099826
Events Corporate Gifts
Corporate chocolate gifts are an exemplary way to express your goodwill for the client or show your support for an employee's performance. They can establish a more profound connection outside the company while also strengthening the ones inside. Gifts are always appreciative, but when added with chocolates, they can become an experience to remember.
While bagging more significant interaction with the client and landing in more reach, corporate chocolate gifts can let you adhere to your prospect's mind for an extended period. With a corporate gifts idea, the business move that you couldn't pull off for eternities can be made in just an instant as it radiates a sense of understanding between the two parties.
Inspiring And Unique Corporate Gift Baskets
We believe in making you stand out from the rest! At a time when everyone may be gifting something, our special offerings coupled with unparalleled taste and unique corporate gift baskets are the key to make an impact that others don't! While ticking all the boxes of flawless texture, aroma, and taste, we also adhere to Corporate gift hampers that will top-off every experience with sublimity.
Our specially designed corporate gift baskets look stunning and well-presented, catching immediate attention and bringing the benefits you asked for.
A Corporate Gift Malaysia Loves
Malaysia has long been a testimonial to our top-notch corporate gift hampers, thanks to the welcoming number of reach, interaction, and staggering benefits. With our Corporate gift Malaysia has been at the receiving end of strengthened enterprise relationships and connections, while our corporate gift hampers do wonders in gaining stunning new levels of customer attachment.
Best Chocolate Gift Baskets
With our decorative chocolate gift baskets, you also get excellent dark chocolates. If you know that a particular employee or client loves such chocolates, the icing on the cake is the unmatched aroma and taste. Our premium dark chocolate is made from handpicked ingredients that deliver a taste unlike everything you've experienced before.
Whole-Some Gift Boxes
Our unique and well-thought packaging offerings are in line with the hope to deliver the best overall experience. With our corporate gifts idea, everything looks well-presented and neat, reminiscent of your business model. In a sea of chocolate gift boxes, ours are created to gain prompt attention and forge an appeal.
Our Christmas boxes are great for the holidays as they are marked with utmost attention to detail and decorations. Inside these Christmas boxes, we pack our love and affection for you to create a difference in the enterprise world.
Every chocolate gift Malaysia loves has one thing in common; sublime intricacy. Inspired by this, we punctuate everything we offer with on-par precision and grace!
The Best Chocolate Corporate Gift Ideas by Leonidas
Want to surprise your friends, colleagues, and family with a nice Christmas present? Leonidas is offering you some delicious chocolates that have been imported from the best places in the world. Our wide range of chocolates is a great way to surprise those chocolate lovers in your life.

Our chocolate hamper sets come in different sizes with nicely assorted chocolate gift baskets filled with mouth-watering and irresistible chocolates. Whether you like dark chocolates, milk chocolates, mixed truffles, caramels, hazelnuts, almonds, we have everything available for you on one page.
Chocolate Corporate Gift
It is effortless to impress your clients with our special corporate chocolate hamper. The unique gift set comes in nicely assorted chocolates of different flavors. What can be a more delicious way of saying thank you than this? Offer them the finest chocolates of avant-garde flavors.

The eye-catching golden box designed for corporate gifts comes with a nice ribbon on the top. The boxes are available in four sizes with 10, 20 sets, and 50 sets packages for 2-piece and 4-piece. So you can select the one according to your requirement.
Chocolate Gift Hamper
Prefer something that stands out and really presentable? Our special Chocolate gift hamper includes; dark chocolates, chocolate figurines, a wide range of truffles, Belgian chocos, soft nougats, Leonidas thin biscuits, freshly baked pineapple tart cookies, sesame candies, and choco chip cookies. The assortment is arranged elegantly, wrapped in clear packaging with a fine festive bow on the top.
How to Place an Order for Chocolate Hamper on Leonidas
Now you can order chocolate hampers from the comfort of your home. You need to follow some steps cited below and enjoy the delicious chocolates by Leonidas.
Visit our website. Decide the items you wish to buy and add them to your cart. After getting done, you can provide all your details and click on the checkout option available on the website.
If you prefer to order in bulk or for a chocolate corporate gift, you can contact us on WhatsApp at 0123099826.
You can also contact our team via email and clear your queries. Simply leave a message on cs.leonidasmy@gmail.com. We will answer you within 24 hours.
If you prefer a later delivery or pick up, please mention it in the remark column during check out to avoid complications