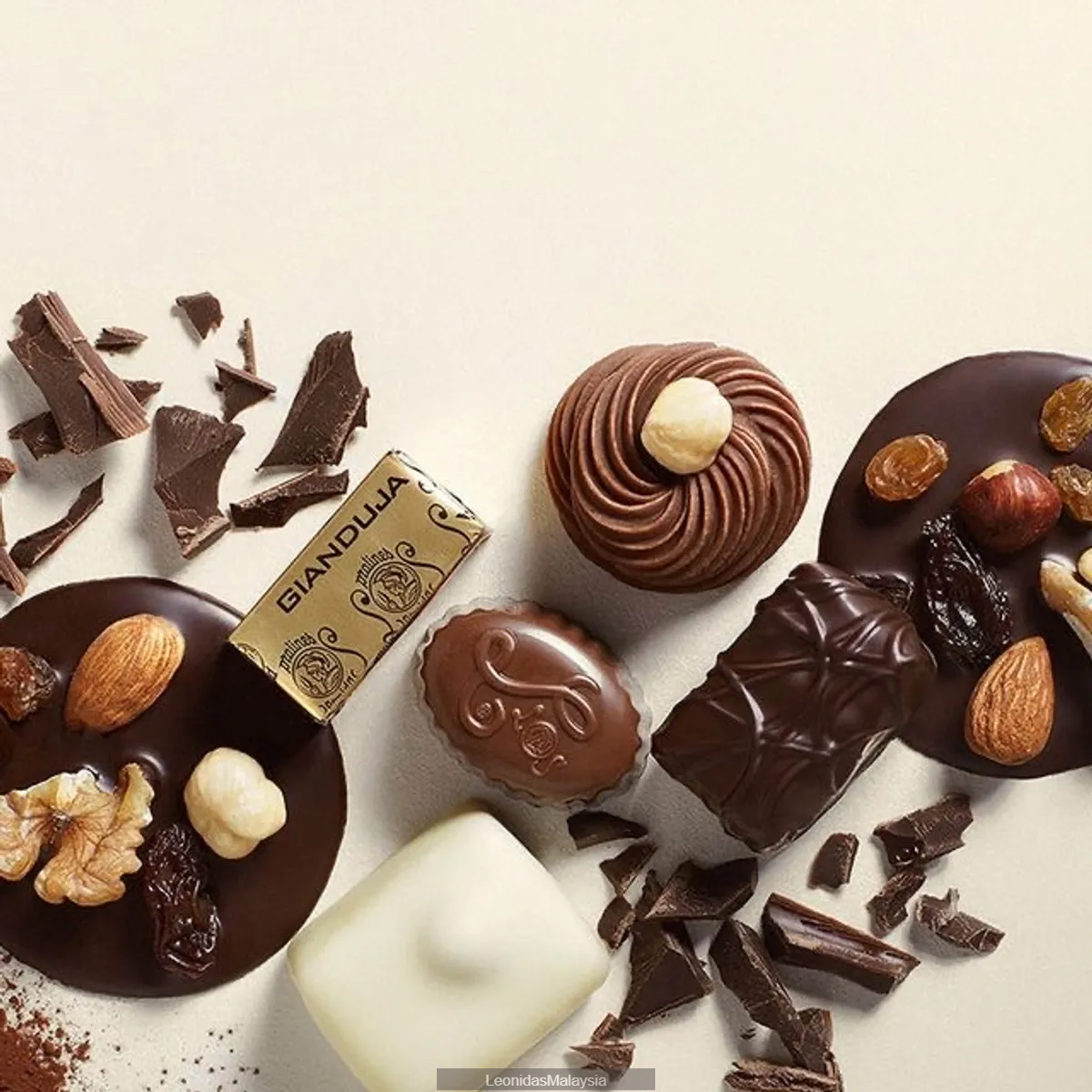 Are you wondering what to gift your special someone on Valentine's Day?
Are you confused between flowers and chocolates?
Well, a beautiful bouquet of fresh red roses is the perfect gift for the occasion, but it would be incomplete without a box of Valentine's chocolate, especially if your someone special has a sweet tooth. So, without wasting any time, order a box of her favourite Belgian chocolate online and surprise her on Valentine's Day.
Don't know which Valentines chocolate box would be perfect for her? Don't worry!! We are here to help you out.
At Leonidas, we pledge to sell the finest quality Belgian chocolates online, and we have some special valentine's special chocolate gift boxes for you.
1. Saffron chocolates and flower box
Nothing is better than fresh and fragrant flowers and a box of Belgian chocolate online on Valentine. We collaborated with our friends at for.com and designed a special saffron Valentine chocolate box for you.
This luxurious box comprises fresh hand-picked flowers from fle.com and delightful Belgian and pralines, straight from Brussels, Belgium. This luxurious box will cost you RM 285 and is definitely going to make your Valentine's Day a memorable one.
2. Summer chocolates and flower box
Summer flower and the chocolate box is collaboration without friends at fle.com. It is smaller in size and an affordable version for you. The RM 195 box comprises 6 delectable Belgian chocolates along with a bed of fresh and fragrant flowers. You can order this box of flowers and Belgian chocolate online from the comfort of your home, and it will be delivered to your doorstep in 2-3 working days.
3. Gifting –Red Heart Shape 9 pcs Gift Box.
If you don't need flowers, this heart-shaped metal box is a perfect Valentine's Day gift to express your love. It will cost you 150 RM and contains 9 pieces of our delectable Belgian chocolates. The assortment may vary from the picture, but it will surely contain our best chocolates and pralines.
You can also add a special Valentine's day message and get the heart-shaped chocolate hosting box wrapped in ribbon. The choice is yours, but don't forget to mention it at the checkout time.
4. Velvet heart gift box
Our signature velvet heart got box is available with an assortment of our best-selling and imported Belgian chocolates, pralines, fresh cream, and ganache. This RM 250 velvet gifting box is sought after and is a dream of chocolate lovers.
You can also add a special message at the checkout.
5. For Her Dora Chocolate Gift Box
Pink is the favourite colour of girls around the world. So, if your girl loves pink too, this RM 338 pink coloured chocolate box is a must-buy item. This round-shaped box is filled with 22 pieces of irresistible fresh Belgian chocolates made from 100% cocoa butter and not pal oil used.
If you want to include a special Valentine's Day message, don't forget to mention it at checkout.
6. Gifting- Heritage Chocolate box
If you are looking for a chocolate box for HIM, this heritage gifting chocolate box is your best option. The RM 208 chocolate gift box contains 16 pieces of delectable fresh Belgian chocolates made from 100% cocoa butter and is available in blue and brown colour box.
You can also choose from dark only, milk only, dark & milk, or dark, milk & white, according to the chocolate preference of HIM. Don't forget to add a special message to express your love this Valentine's Day.
Chocolate as Gift on Valentines
Are you looking for the best valentines gift for your special one? What can be better than a box of chocolates filled with love? Let's make your special day a bit more memorable by adding a bit of sweetness with our chocolates.
Now you can say Happy Valentine's day in your own unique way. Gift her a box of delicious chocolates and make her the happiest. Chocolates outclass everything when it comes to the best valentines gift. Indeed, they make a perfect fit for every occasion, from birthdays to wedding celebrations.
Chocolates- A Token of Love
At Leonidas, we have endless options available that you can easily choose from. We are the best chocolate seller in Malaysia, helping millions of customers enjoy their chocolate cravings without any guilt.
Our chocolate gift boxes are customized and specially designed to leave an everlasting impact on anyone who receives them.
Here are some of the special chocolate boxes that we are offering at Leonidas;
Gifting - Gianduja Signature Box
This special edition has been launched recently to satisfy the sweet taste buds of our valuable clients. So, without wasting a single second, make an order to enjoy the luxurious chocolates or to give Chocolate as gift.
The assortment is nicely packed with 24 pieces of smooth grounded hazelnut pralines. You can enjoy 3 amazing flavors in one purchase. The flavors include;
Gianjuda is a pure hazelnut praline.
Giantina has an addition of crunchy biscuits with hazelnuts.
Gianmanda comes with chopped almonds as a treat, along with hazelnuts.
It will cost you around RM 189.
Special Heritage Gift Box - Best Valentines Gift
Leave a lasting impression on HIM by gisting our special Heritage Gift Box.
Under this category, we have two options available for you. You can either go for a 9 pcs or 16 pcs gift box.
It comes in brown and blue with 9 pcs of nicely packed Belgian chocolates.
It costs around RM 138.
The special 16 pcs box also has two color options available.
For both of the gift boxes, you can also make a selection of the type of chocolate you need. We currently offer 3 flavors;
Dark chocolate
Milk chocolate
Dark & milk chocolate
Dark, milk & white
You can also get the message attached to the gift before sending it to your special one. So hurry up, select according to your choice, and get the order delivered to the desired address.